LED wash 19*40W with bee eye.
The bee-eye effect can create a variety of different visual effects, including:
Beam effect: Multiple LED lights can be combined together to form a powerful beam effect, used to illuminate the stage or other scenes.

Texture effects: Multiple LED lights can be combined to form various texture effects to create visual impact.

Dynamic effects: Multiple LED lights can be combined to form various dynamic effects to create an atmosphere.
---
Light Effect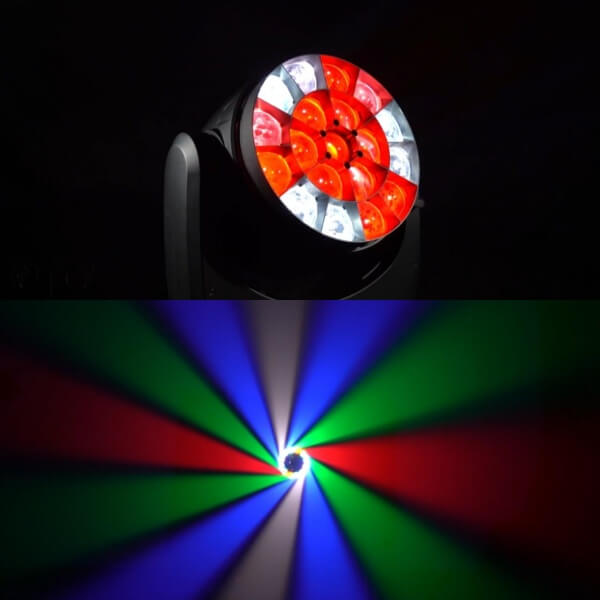 ---
Light Sources 
19*40W 4IN1 RGBW LED
Beam Angle
3.5°- 50°
Power Consumption
 640w
Power Voltage
 AC 100-240V, 50/60Hz
Dimension
 376*280*420.5mm
Net Weight
14.5 Kgs
Carton package 1in1 size
 53.5*39*49.5cm
Gross Weight
 18Kgs
Flight Case 1in2 size
 97*46*64cm
Gross Weight
 62 Kgs
Control 
DMX Channel
21/23/35/78/92/97/99 Channels
Control Modes
 DMX512/mater-Slave/Auto Run/Music
Pan/Tilt 
Pan
 540°/ 360°
Tilt
270°
Pan/Tilt Resolution
 8/16 bit
Construction 
Display
180° reversible 1.8 inch TFT colorful Display
Data In/Out socket
 3-pin & 5-pin XLR sockets
Power Socket
 Power Con in/out
Protection Rating
 IP20
Features 
LED single control, can display arrows, numbers, letters and patterns
High-efficiency optical system, wonderful flower effect plus zoom
Fan work speed auto adjustable with head temperature
Led temperature protection & Fan run speed automatic based on the head temperature.